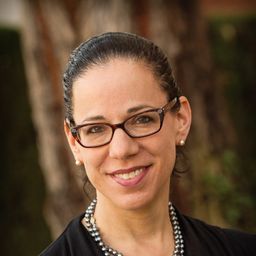 Rabbi Rachel Sabath Beit-Halachmi Ph.D.
Scholar, Author, Public Speaker, Leadership Consultant
Rabbi Sabath is a scholar, author, spiritual leader, strategic innovator and sought-after public speaker. Most recently Rabbi Sabath led a four-campus team to achieve the goals of a five-year strategic plan as the National Director of Recruitment and Admissions at the Hebrew Union College-Jewish Institute of Religion (HUC). In 2013 she was also appointed President's Scholar and most recently was also appointed Assistant Professor of Jewish Thought and Ethics. Rabbi Sabath has taught courses on liturgy, modern Jewish thought, gender, and theology as an adjunct member of the faculty at HUC for over 16 years. Prior to her recent national role at HUC-JIR, Rabbi Sabath served as Vice President of the Shalom Hartman Institute in Jerusalem and for over a decade as a member of the Institute's faculty, while directing the Hartman Lay leadership, Rabbinic leadership, and Christian leadership programs for North American leaders as well as programs in pluralism and Jewish identity for officers of the IDF. Ordained in New York in 1995, Rabbi Sabath also earned a Ph.D. in Jewish philosophy from the Jewish Theological Seminary. For several years, Rabbi Sabath wrote a monthly column in the Jerusalem Post and has written regularly for The Times of Israel, The Huffington Post and other publications. Rachel co-authored two books and published numerous scholarly articles as well as pieces in key Jewish thought publications including "Radically Free and Radically Claimed" in Jewish Theology in Our Time. Rabbi Sabath teaches and mentors Jewish leaders of several generations and is a sought-after speaker throughout North America and Israel on leadership, Israel, gender, and theology. Rabbi Sabath serves on the editorial board of the CCAR Journal of Reform Judaism and as a consulting editor for the new multi-denominational journal, Zeramim: An Online Journal of Applied Jewish Thought. Rabbi Sabath is an alumna of the prestigious Wexner Foundation Graduate Fellowship and was selected to join the Phi Beta Kappa Society. She has served on the faculties of the Wexner Foundation, CLAL, and the Skirball Center. For more than a decade she also served seasonally as the rabbi of Congregation Shirat HaYam on Nantucket Island. Rabbi Sabath lived in Israel for nearly 15 years and currently lives in Cincinnati with her husband, Rabbi Ofer Sabath Beit-Halachmi, and their three children.
Sessions in which Rabbi Rachel Sabath Beit-Halachmi Ph.D. participates
Hotel Irvine - Oak Creek
Workshop
Rabbi Rachel Sabath Beit-Halachmi Ph.D. (Participant)
Lisa Armony, Jewish Federation & Family Services (Participant)
Evan Goodman, Santa Barbara Hillel (Participant)
The battle for Israel on college campuses is threatening the covenantal relationship the next generation has with Israel. Learn with leading thi...